WHAT IS IT? HOW DO YOU USE IT? 
Biemond Nurseries use peat moss as a primary potting medium across all our sites. With 35 years of research into the best media for our plants, we choose to use this product above all others. 
WHAT IS PEAT MOSS? 
Peat is formed from the decomposition of sphagnum moss and other organisms over many thousands of years. Peat accumulates in cool, moist climates in wetlands or lakes which turn into bogs. Peat is mostly mined for fuel, in place of other options like coal; only 1% of peat moss is used in horticulture. 
WHY DO WE USE IT? 
Totally broken down product
Stable
Regulates plant growth
A fine material, delicate on hands and plants
More forgiving than other options
Can hold water up to 20 x its weight.
Generally lack weed seeds and pathogens.
High porosity allows penetration of fine roots.
Allows plants to uptake nutrients, rather than drawing them into the media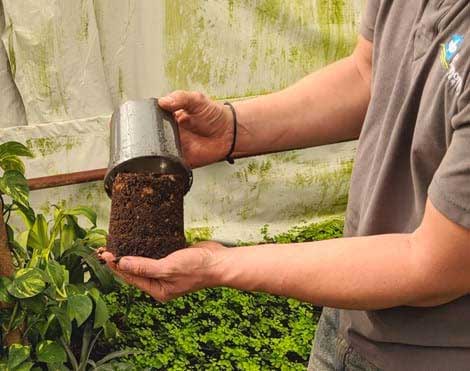 DO I STILL NEED FERTILISER?
When we pot our plants we add a slow-release fertiliser, which lasts for 3-6 months. We recommend adding this again at the start of spring or a liquid feed once a month.
WHERE DOES IT COME FROM? 
It is mainly found in the northern hemisphere – Canada, northern Russia, Scandinavia and Scotland – and, in the southern hemisphere, in New Zealand, Tasmania, Argentina and Chile. We use blends of peat from Latvia & Estonia.
IS IT SUSTAINABLE? 
In the horticulture industry, only around 1% of the earth's peat moss resources are used. Once a bog has been used for the top layer of peat, water is pumped in and the peat will start to regenerate. Compared to other options which involve deforestation to plant pine or palm trees, peat moss mining has less dramatic effects on the local environment.
While we prefer to use peat moss, this is not always readily available for purchase. If you do purchase a pine bark potting mix, make sure you buy the best quality version for optimal results.